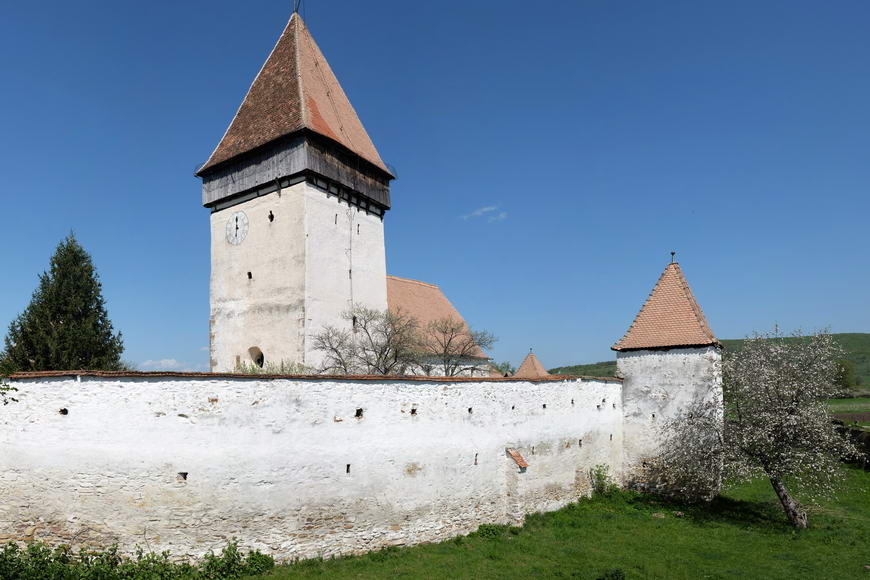 From the first basilica built in the 13th century the western portal is preserved – a most valuable testimony of the Romanesque architectural sculpture in Transylvania – as well as the pillars and arcades that once used to separate the central nave and the aisles. Looking carefully above the western portal, one may observe an immured sculpture representing two figures. Some argue that it is a depiction of the Baptism of Jesus, while others say it represents Adam and Eve. The observer is thus invited to solve this mystery by himself.
Around the year 1500 the bell tower was heightened and provided with a wooden battlement walk on consoles and the church's side aisles were demolished. The two defence walls of the assembly, which were built during the 15th century, are connected by the gate tower and still exhibit remains of the former battlement walk and embrasures, vestiges of a rough past.
Place and surroundings

Amidst the picturesque valley of Hârtibaciu river lays the village of Hosman. The fortified church in the center of the settlement is one of the most photographed sunjects in Transylvania. In clear weather the church has as background the spectacular view of the often snow-caped mountains Făgăraşi, which formed once the boundary of the Austrian and respectively Hungarian sphere of influence. As part of the southern Carpathian, the mountains reach heights over 2.500m.
Today Hosman is one of the starting points of the Brukenthal cultural trails, by which one can explore the surroundings in trips up to nine days. On site the Association "Hosman Durabil" (Sustainable Hosman) supports the development of the settlement. Focus of work is the preservation of the cultural and built heritage and improvement of the living conditions. As part of their work, the old mill was refurbished to host cultural events. Here one can take a guided tour and buy bread, which is backed following traditional recipes and methods.
The European Youth Meeting Center Fortified Church in Hosman (CEPIT Hosman) organizes interethnic and ecumenical youth events and it is committed to the preservation of the medieval assembly of the fortified church.
Activities
The fortified church of Hosman underwent a thorough renovation in the end of the 90's. Since then about 20 years have passed and the important maintenance and care of the building went through different phases.
In the beginning of the 2000's family Cotaru (Hosman Durabil) took great care of the fortification. They not only made sure it was accessible but also actively repaired things when necessary, for example they restored the tower clock.
As of 2010 different measures were taken by the Association "Jugendburg Holzmengen", the District Consistory of Sibiu and other initiatives. The Association "Jugendburg Holzmengen" has been caring for the parish house for many years.
In order to support the parish and both of the active associations on site we have included Hosman into our roof program for monument preservation.
Our Partners
Parish Sibiu hermannstadt.evang.ro/home/
District Consistory Sibiu bkh.evang.ro/
Association Hosman Durabil www.hosman-durabil.org/
Association "Jugendburg Holzmengen" www.holzmengen.ro