Caţa / Katzendorf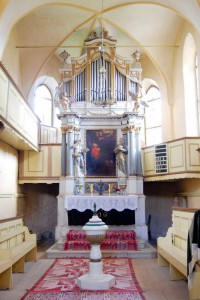 A pier basilica, easily recognizable by its main features, constitutes the core of the fortified church in Caţa. Inside, the pillars with arcades are a typical Romanesque construction to connect the side aisles to the nave. On the northern clerestory two uncovered false windows can be seen. The Romanesque chancel as well as the apse were rebuilt during the 15th century in Gothic style. The cross vault collapsed 1894 together with the western tower and it was replaced later on by a flat ceiling. The tower was never rebuilt. The massive fortified curtain wall dating back to the 15th century still preserves four of initial six defence towers. The pentagonal "priest's tower" offers views over the garden of the parish house. The assembly was provided with a second defence wall with outer bailey as early as the 17th century. Its northern side was demolished in 1884 and in 1937 for using the resulting material to build the school and the community hall.
Place and surroundings
The precise date of the village's establishment remains unknown. While the first documented reference dates back to the beginning of the 15th century, the foundation of the Romanesque basilica in the village's center was laid as early as 1250 and the church was also fortified later on. The village developed at the crossing point of two main roads, thus being often affected by enemy attacks and fires throughout the centuries. During the 17th and the 18th century the village was plundered and torched six times. A strong fire heavily damaged the fortified church around 1706, while the parish house and the school were entirely burned down.
With its 2.500 residents Caţa is today a rather quiet and peaceful place. In the village's center, in the parish house lives the Transylvanian Saxon writer and film maker Friedrich Schuller. He restored the homestead where his father used to live as priest of the village and regularly hosts nowadays cultural and literary events: for example, in 2011 it was awarded here the first "Wordsmith of Caţa" price.