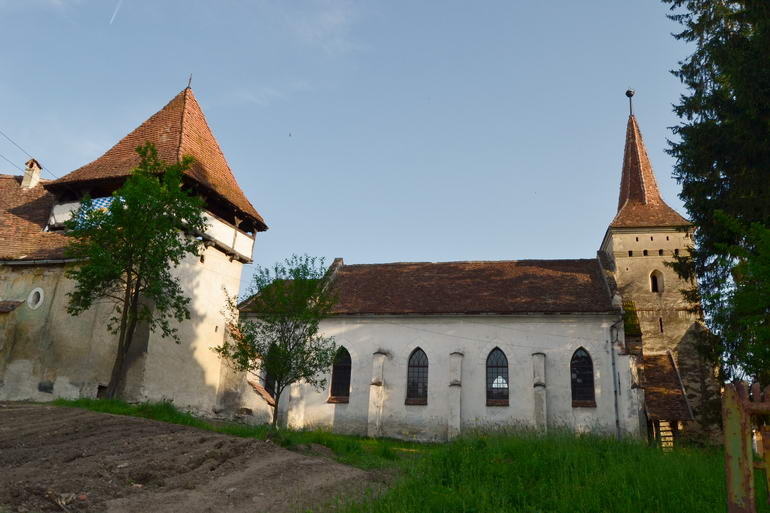 The initial medieval church in Metiş was demolished in the 19th century and replaced by a neo Gothic building, one of the so-called Gustav-Adolf-churches. The association Gustav Adolf is the oldest Evangelic relief organization and made donations for building new churches in the Diaspora in the 19th century. Only the western tower built in the 14th century was preserved from the first construction. The ring wall had three defence towers and an outer bailey, but only the northern tower with its timber frame parapet walk still stands today. Later the parish house was built next to it. On the exterior of one of the 14th-century bells in Metiş the Gothic majuscules are still visible.
Place and surroundings
Peacefully located at the foot of the mountains, comfortably wrapped in terry vegetable blankets, the village of Metiş has been sleeping for hundreds of years. Who would suspect that the dignified fortified church, the silent roads and the quiet old houses once hosted humorous funny events?
As for example, an anecdote of a Tatar attack it is well known in the village. While the inhabitants retread behind the mighty walls of the fortress, some piglets escaped and ran out. Their owner, a bitter and grumpy old woman went out cursing to get them back. Suddenly from the bushes a Tatar jumped, grabbed the woman and abducted her. The husband who stayed inside the fortification watched them leaving with his mouth open. His old face with wet eyes expressed heartbreaking sympathy and pity. With trembling, hollow voice he barely managed to whisper: "Oh my God….you poor Tatar!".