Cârţa / Kerz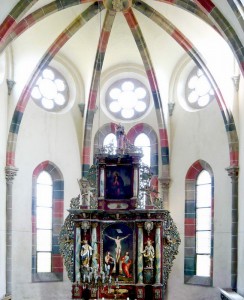 Not actually a fortified church, the ruins of the former monastery, which is considered the easternmost establishment of the Cistercians, still impresses with its appearance, erected according to the rules of the order. First it was built in the Romanesque style in 1202, but only after the first destruction in the 14th century it was completed. The monastery remained unfortified, therefore stood unprotected under the attacks of the Ottomans, which burned it in the mid 15th century. The last repair took at the end of the 15th century, then the order was dissolved and the city of Sibiu took it under protection. Starting with the 17th century, the buildings of the ensemble and the nave of the church fell into disrepair to a large extent. The walls of the church ruins still bear traces of the basilica with three naves and transept. From the other buildings of the monastery only the eastern wall of the convent building still stands. Today, the chancel and the transept are used as a church.
Place and surroundings

One of Cârţa's highlights is the ruin of a monastery settled by the Cistercian Order in the 13th Century. The monks were actively involved in the colonization of the sparsely populated region. However they brought little luck to the settlers around the abbey. Mongolians and Turks attacked the monastery repeatedly. One of the many legends originating in this time tells the story of the inhabitants of Cârţa escaping from the Turks into the forest. They took "Boflisch" – Saxon name for bacon – with them as emergency supplies. A traitor told the Turks about their hiding place. When the enemies closed in the people of Cârţa cut trees and built a wall in front of the forest trench. In their desperation they put the "Boflisch" on top. The Turks were not very impressed and set the wooden wall on fire. But when the fat started to burn, the smell was terrible. The Turks, who considered pork as impure, left the battleground disgusted. That is how the people of Cârţa were saved by their favourite food. To this day the place is called "Boflisch-Trench".