Netuş / Neithausen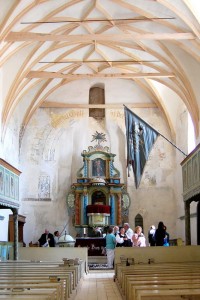 Documented for the first time in 1448, the Gothic hall church was erected without a tower. During the fortification works in 1500, a mighty defence tower was built above the chancel and a second one on the western side. The chancel was encased with a 2 m thick wall, which separated it from the nave. The access from the nave went through a portal secured with portcullis. The church was surrounded by a wall protected by a gate tower, but only fragments are still preserved. The gate tower was later converted into a dwelling for the castle guardian.
In the 19th century he western tower of the church was replaced by a polygonal annex for the organ loft. On the eastern wall one can admire a rare example of pulpit altar, masterpiece built in 1770 by Johann Folbarth, sculptor and painter from Sighişoara. In the walled-up chancel, the Gothic vaults, the tabernacle, the sacristy portal and frescoes fragments are still preserved.
Place and surroundings
At first glance it is not easy to spot all there is to discover in the fortified church of Netuş, but the numerous modifications on the building over the past 700 years have left many traces. Behind the altar a narrow passage leads into a shady room, situated directly under the massive eastern tower. More than 500 years ago the windows were bricked up and since light enters only through the narrow loopholes. The wall paintings show that this was the former chancel, which was walled up during the rebuilding of the church.
In the massive outer walls of the tower a staircase was carved to lead upstairs. The way to the defense level passes by the former bacon chamber, which stays deserted since decades. The defense level offers magnificent views of Netuş and the surrounding villages. From here the castle guardians of neighboring settlements were once warned of approaching dangers. After descending back to the church many other surprises await to be discovered in the western part of the chancel.