Turnişor / Neppendorf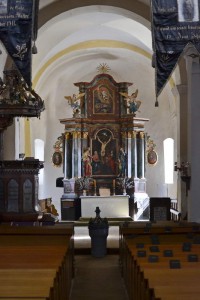 The Romanesque basilica in Turnişor originates in the late 12th century and impresses due to its massive tower built above the square of the chancel, whose walls on the corner pillars are up to 3m thick. The tower is probably older than the church, which was enlarged to the west to receive its actual Latin cross shape. Because of the troubled times in the Middle Ages the assembly was initially surrounded with a fortification wall that survived only as ruin.
In 1781 a wooden clock was installed on the tower only to be replaced in 1862 with an ironed one. The Baroque interior furniture of the church comprises the 1759 altar and the 1782 pulpit. The small bell and middle one were made in a workshop in Sibiu in 1922.
Place and surroundings
The former village – today district of Sibiu – Turnişor was mentioned for the first time in a document from 1327. But the settlement is considerable older than this, one of the oldest churches in Transylvania being built here already end of 12th Century.
Because of the many battles and pest epidemics the population was decimated. But the demographic situation was re-balanced starting with 1734, when the so-called "landlers", protestants displaced from the region Salzkammergut settled here. In the 18th Century, thousands of evangelic Lutherans were "transmigrated" by the order of Emperor Charles the 6th and Empress Maria Theresa. The reason behind this banishment was their Lutheran faith, the catholic royalty insisting on religious unity as a cohesive power in a multinational state. Transylvanian princes allowed religious freedom and, because the population in the region had been decimated considerably, they welcomed the newcomers. Entire families of colonists settled in the empty homesteads and were able until recent past to preserve their cultural identity and dialect. Tunișor is one of the three settlements of "landlers" in Transylvania.
Next to the Evangelic Church, the Evangelic Academy Transylvania (EAS) is functioning since 2001, a meeting and conference center that offer also accommodation.