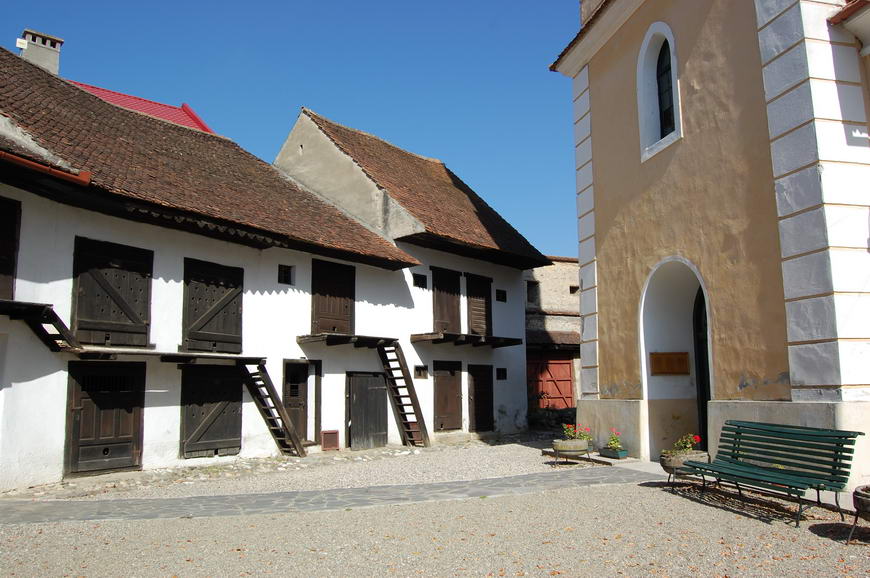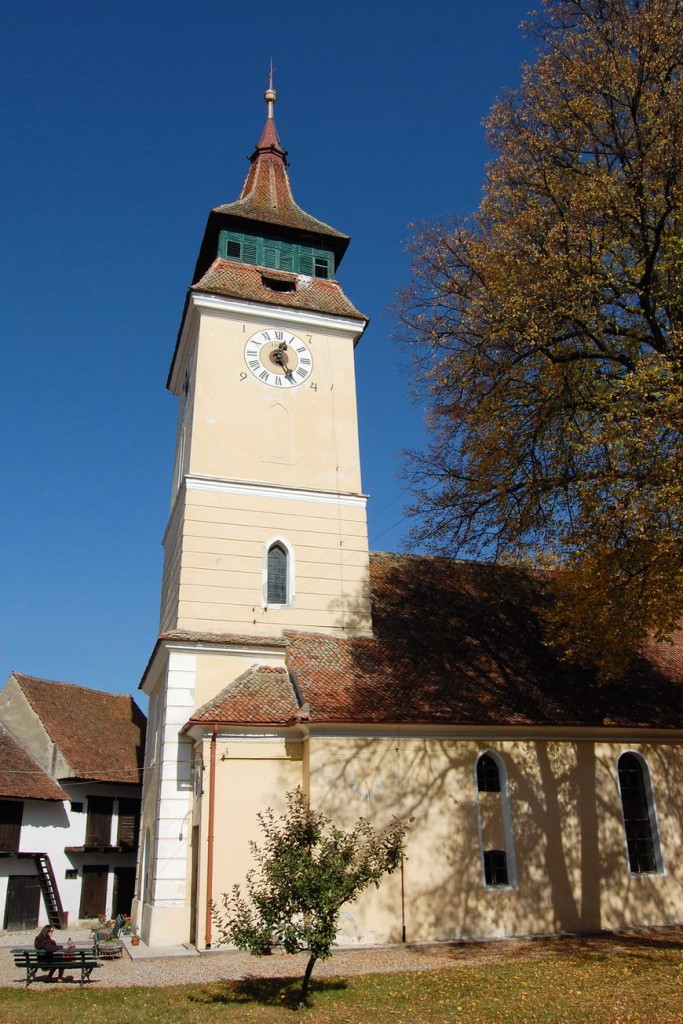 Only the triumphal arch is preserved from the 13th century Romanesque basilica. A vault carried on stone ribs, which end on consoles decorated with face-masks, covers the late Gothic chancel that was built two centuries later. After the church was destroyed by the troops of Gabriel Báthory, the community needed more than 50 years until it started rebuilding in 1665. The vault of the chancel and the paneled ceiling of the nave were built in that time. More than a century later the bell tower was erected and in the same time the wooden galleries inside the church.
On the baptismal font from 1741 two inscriptions in German and in Latin can be read. They are also mentioned in a church book dating back to the 18th century. A portcullis and a machicolation secured the entrance of the 14th/15th century curtain wall. The view of the main entrance is blocked by the town hall today.
Inside the fortification several good preserved granaries can be visited. An interesting visit can be the one of the Evangelic cemetery located behind the church. The tombs sheltered on the perimeter under a common roof and the stories about those resting there are worth paying a visit.
Place and surroundings
The village Vulcan is to be found on the foothill of Bucegi Mountains, only miles away from the Omu peak (more than 2.500m), which is well visible in clear weather. It is no wonder that a village bestowed with such a picturesque name gave birth to some of the most beautiful Romanian legends. Apparently both the Saxon "Wolkendorf" (the village of the clouds) and the Romanian "Vulcan" (volcano) derives from the oldest form "Wulkendreff", which may come from the Hungarian "wylk", meaning wolf. From the mystical world of the village emerges the "White Rider", a phantasm that has been seen once by a villager in the "Kirchwald" (the Church's Forest), but which disappeared as soon as the church bells started tolling.
Vulcan lies away from the heavy traffic in a quite environment and has in its middle a beautiful fortified church, the center of an active community. Moreover one can find here the Recreation Home of the Evangelic Church A.C in Romania, a place opened for tourists looking for relaxation as well as for meetings and group travel.