Cristian / Neustadt bei Kronstadt

The bell tower is the only remainder of the former Gothic basilica, which was entirely demolished in 1839 and replaced by today's neoclassical hall church. A pointed spire and four corner turrets were built on the tower in 1803. Its portal and the rose window originate from an earlier construction phase. Pairs of pillars that support the domical vaults segment the church's interior. The altar and the pulpit were built at the same time as the church. The assembly is still surrounded by a double de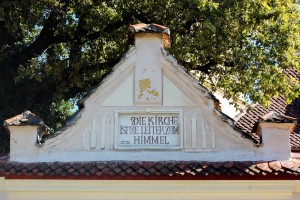 fence wall, which was constructed, enlarged and endowed with nine defence towers across more than three centuries. Only eight towers still stand today. Another remarkable building in Cristan is the neoclassical parish house opposite to the church, as well as the community center from 1926/1927 featuring a curve roof, called "Zollinger roof" after the name of its inventor.
Place and surroundings
The church in Cristian with its double ring wall and the eight well preserved defence towers represents one of the most impressive examples of medieval military architecture. The village was founded in the 13th Century, after the German Order of Knights has built several fortresses in the region and has recruited German settlers. The legend says that the son of an influential Graf, a count living in the area of Cristian, was disowned and disinherited by his father because he loved the undesirable woman. His softhearted mother gave him as compensation the downstream mill on river Ghimbav and the surrounding land. The son and his beloved one settled there and started a family. Over time more and more families preferred to move away from the hardhearted Graf and settled close to the mill, founding the so-called "New town" (the German name of the place, Neustadt).The place lies at the foot of Postăvaru, a mountain that together with Poiana Braşov is nowadays one of the most famous winter sport resorts in Romania.