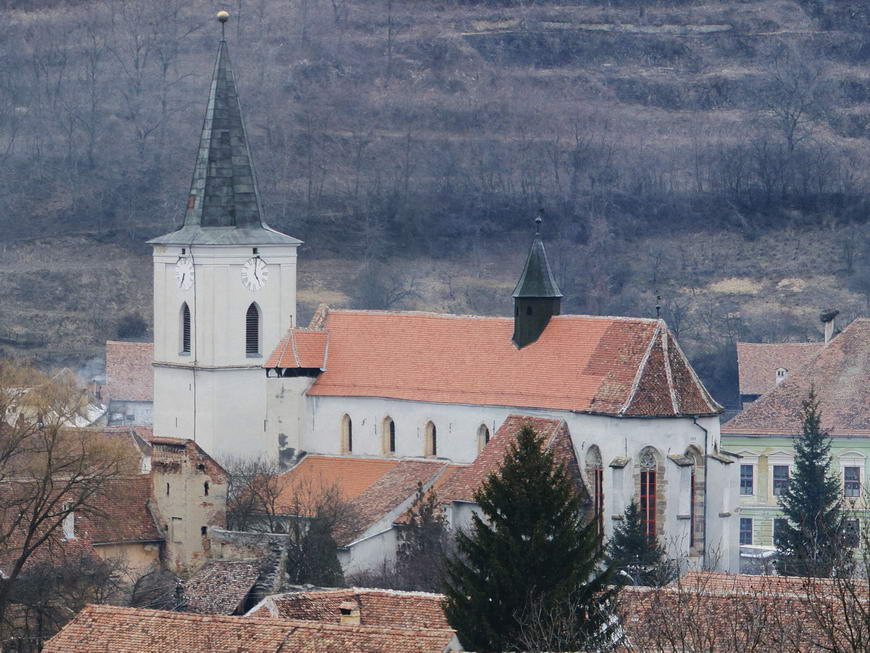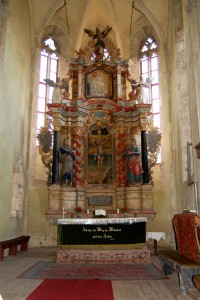 The Evangelic church in Richiş is a special appearance in the landscape of Transylvanian fortified churches, maybe also due to the fact that for a long time a monastic order resided here. During the Protestant reformation, the monks were banished by the villagers, thus being forced to leave the church to the community.
The three aisles tower-less basilica was built in the 14th century and was protected with a curtain wall with two defensive towers and battlement walk. It stands out from other similar village churches due to its rich decorations: the funnel-shaped western portal, the pillars and columns with capitals supporting the ribs of the vaults, the keystones decorated with masks, the tracery of the mullioned windows. The doubled triumphal arch testifies that a tower was initially planned to be erected here.
Place and surroundings

Before Richiş became one of the most prosperous villages in Mediaş and before diligent people founded the locality, the place was rough and swampy. Only wild animals lived among the reed, the willow trees and the thistles. As a memory of those times, the elegant coat of arms of the village was created, showing a heron stepping gracefully through an infinite lake, guided by Venus under a red sky. Water birds often appear on European coats of arms, probably due to the allegory of the pelican, this bird being adopted in the iconography as a symbol of the Saviour, of Jesus. They say that the pelican tore up its chest, letting his hot blood gush out through its white feathers, in order to revive its breathless chickens.
In the church of Richiş this mythical bird finds a reputed place on the crown of the chancel, being one of the precious art works of the place. Many other sculptures and ornaments are lively described by the curator Johann Schaas during the guided tours he offers to the tourists.