Miercurea Sibiului / Reußmarkt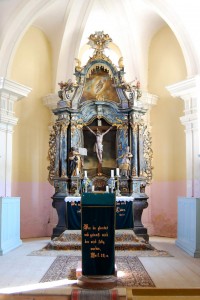 The Romanesque pier basilica built around 1260 was changed to a hall church starting in 1496 when the side aisles were heightened. From the initial building only the walls and the tower remained, which has been integrated into the roof. In the attic of the side aisles the round Romanesque clerestory windows are still preserved, after being covered in 1783 by the construction of the nave's vault. During this period the chancel was enlarged and the interior decorated with Tuscan columns on the triumphal arch and next to the walls.
The interior furnishing date back to the 18th century. The defence wall with gate tower was built between the 13th and the 15th century. Almost its whole interior side is built with massive two-level rooms and granaries, and behind them the battlement walk. The cells were provided with a protruded pitched roof, for the protection of the villager's grain chests, which are still exhibited today.
Place and surroundings
In the morning light, the settlement does not resemble a mythical place. But the church and its curtain wall that quarters one of the best preserved granaries in Transylvania are the solid proof of the fact that Miercurea Sibiului has had enough sources for numerous legends and fairy-tales. Thus, people say that long time ago an ugly girl used to live here. She was so ugly, that she started to cry when she saw her image in the turbid water mirror. God took mercy on her and in order to relieve her suffering, created the first white lily for her pure soul. The alluring fragrance of the flower surrounded the young lady and delighted by it, she forgets about her sorrow. Looking at herself in the surface of the water, with a peaceful soul this time, she was amazed to see that, although her aspect did not change, she became more beautiful than any other due to her relieved heart. God had thus blessed the lily with His love, bestowing upon it healing properties.