Şona / Schönau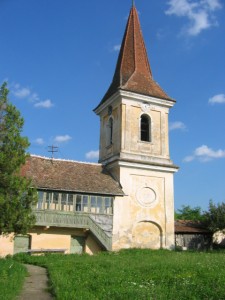 Beginning of the 16th century a hall church with narrow chancel has been built in Şona. In the 19th century the church was rebuilt in Neoclassical style, but only after the bell tower has been erected southern from the church. The assembly was surrounded by a curtain wall with defence tower, of which only some remains are still preserved. The interior Neoclassical furnishing includes the organ from 1852 and the pulpit and altar from 1847.
A field called "At Martin's Church" is located 2,5 km away from the church. There the remains of an old church were found, which might be the one mentioned in a document dated 1252. The report stated that the son of Count Martin sold part of its land between the two Târnava Rivers, where three villages and a Martin's church were to be found, to another Count.
Place and surroundings
The village and its heavenly surroundings seem to be both under the patronage of the glorious Apollo, and under the protection of the cheerful Dionysus, the place being surrounded by a harmonious landscape with vineyards.
The vintage was never regarded as simple work, but as an occasion for joy and celebration. It usually started in October: early morning the entire family gathered in the vineyard, eagerly waiting for the signal of the watchman who opened the grape hunting season with a loud shot. As reward for his work he received the traditional schnapps. While their parents were working, the children used to gather around a campfire fed with branches and dry wood for singing, smoking (according to custom, children in Şona were allowed to smoke during harvesting – but only then!) and for telling fantastic stories.