For the team of the Fortified Churches Foundation, "Corona-times" do not mean a standstill at all: construction work was on the schedule in the past months. In the parish of Ruși (church district of Sibiu), important safety and repair work was carried out in the period from May to August 2020.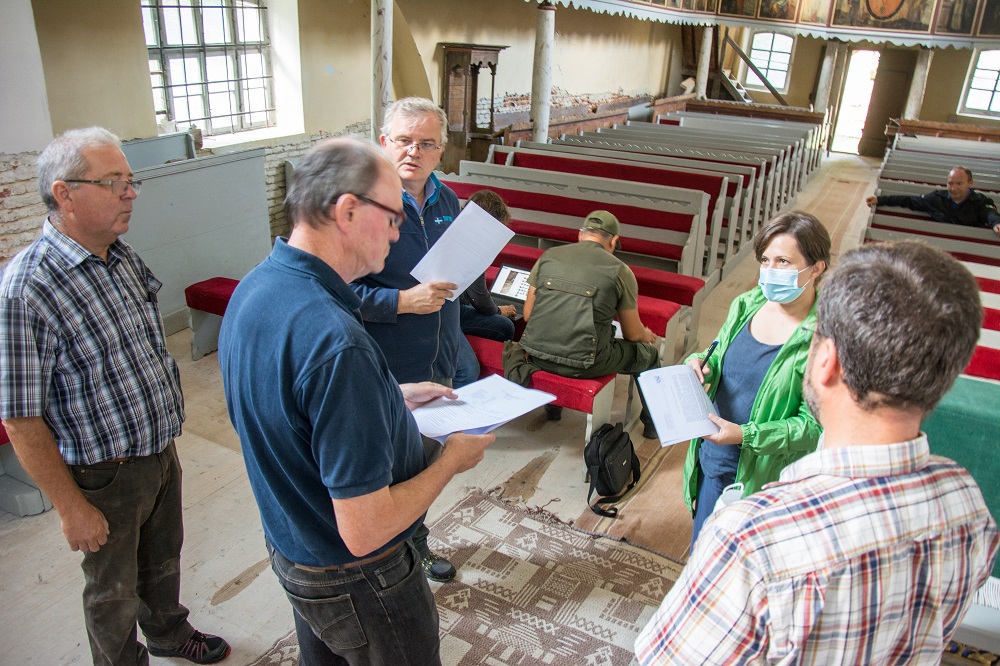 Following an inquiry by Klaus Untch, the pastor responsible for the parish of Ruși, Ecaterina Gál from the team of the Fortified Churches Foundation, supported by Sebastian Bethge, began the coordination and planning work for securing the fortified church. Problems with the roofing and the rainwater drainage system turned out to be central. But not only repairs to the roof truss, the roof tiles and roof battens were carried out. Harmful, cement-containing plaster was removed as well as the levelling of the terrain. "The vast majority of the damage to our churches and fortresses is caused by defective sewage systems or damage to the roofs. That is why the roofing work and the exemplary solution of the rainwater drainage through a gutter carried out under the tower were particularly crucial," explains Ecaterina Gál.
With a total sum of significantly less than 20,000 euros, these important and urgent safety works could now be completed in Ruși in cooperation with specialists and experts recognized by the Ministry of Culture. During an inspection in mid-August 2020, EKR Lead Counsel Friedrich Gunesch, district Dean Hans-Georg Junesch, pastor Klaus Untch and community curator Andreas Hihn were also able to convince themselves of the quality of the work carried out by the Horanca company from Ighișu Nou. The project, carried out under the direction of Architect Tudor Pavelescu, was even included in the selection of the "Biennale for Architecture and Architecture" by Arhitectura.6. Here the best architectural projects of the last two years from the districts of Brașov, Covasna, Harghita, Mureș, Sibiu and Vâlcea are presented.
The "Leaning Tower of Ruși"
The Lutheran church building in Ruși, located about 25 km north of Sibiu, dates back to 1636, when the community built a new church on the site of a pre-Reformation church, probably dating from the 14th century and dedicated to St. Luke. The strikingly inclined tower, which stands away from the nave, dates from 1749 and was already inclined by 18 degrees in the middle of the 19th century. According to an investigation by engineer Karl Gärtner (1858), the bell tower of Ruși is considered stable and therefore not in danger of collapsing. Nevertheless, according to Sebastian Bethge of the Fortified Churches Foundation, regular observation of the statics of the tower is recommended.
Text und Photos: Stefan Bichler