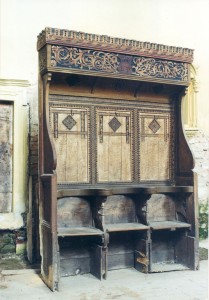 At the end of June, 6 students of the conservation and restoration course at the HAWK (University of Applied Sciences and Art) travelled from Hildesheim under the direction of Dipl.-Rest. Ralf Buchholz, Prof. Dr. Thorsten Albrecht and Susanne Karius, restorer M.A., through Transylvania – with some projects and following the trail of the master carpenter Johannes Reychmut from Sighișoara.
In the first days the group had to make a test inventory of the mobile cultural property of the fortified church in Movile. Over a period of three days, the hard-working students under the direction of graduate restorer Sarah Hanini documented every detail of the church's inventory. For Hanini, the preparation, implementation and evaluation of this first inventory forms the basis of a masters thesis she will write at the European University Viadrina in Frankfurt/Oder. In the next step, the two universities, together with partner universities in Romania, will carry out an inventory project funded by third parties. The Fortified Churches Foundation will prepare and coordinate this process.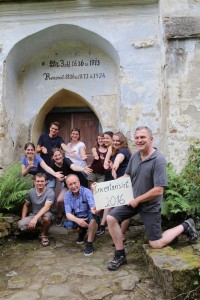 The HAWK was involved in monitoring and preserving the wooden chests of Brădeni in Transylvania several years ago.
Recently, students from the "Furniture and Wooden Objects" department of the "building and conservation" faculty restored the medieval choir stalls from Dupuș with a new laser scanning technology.
The Richiș sacristy door impressed through its love for detail and the professional work of the master carpenter Johannes Reychmut, the students this year set out in search of further objects from his workshop.
Besides Brădeni, Richiș and Biertan, where the group was accommodated, they visited Feldioara, Dacia, Viscri, Valea Lungă, Șmig and Apoș.