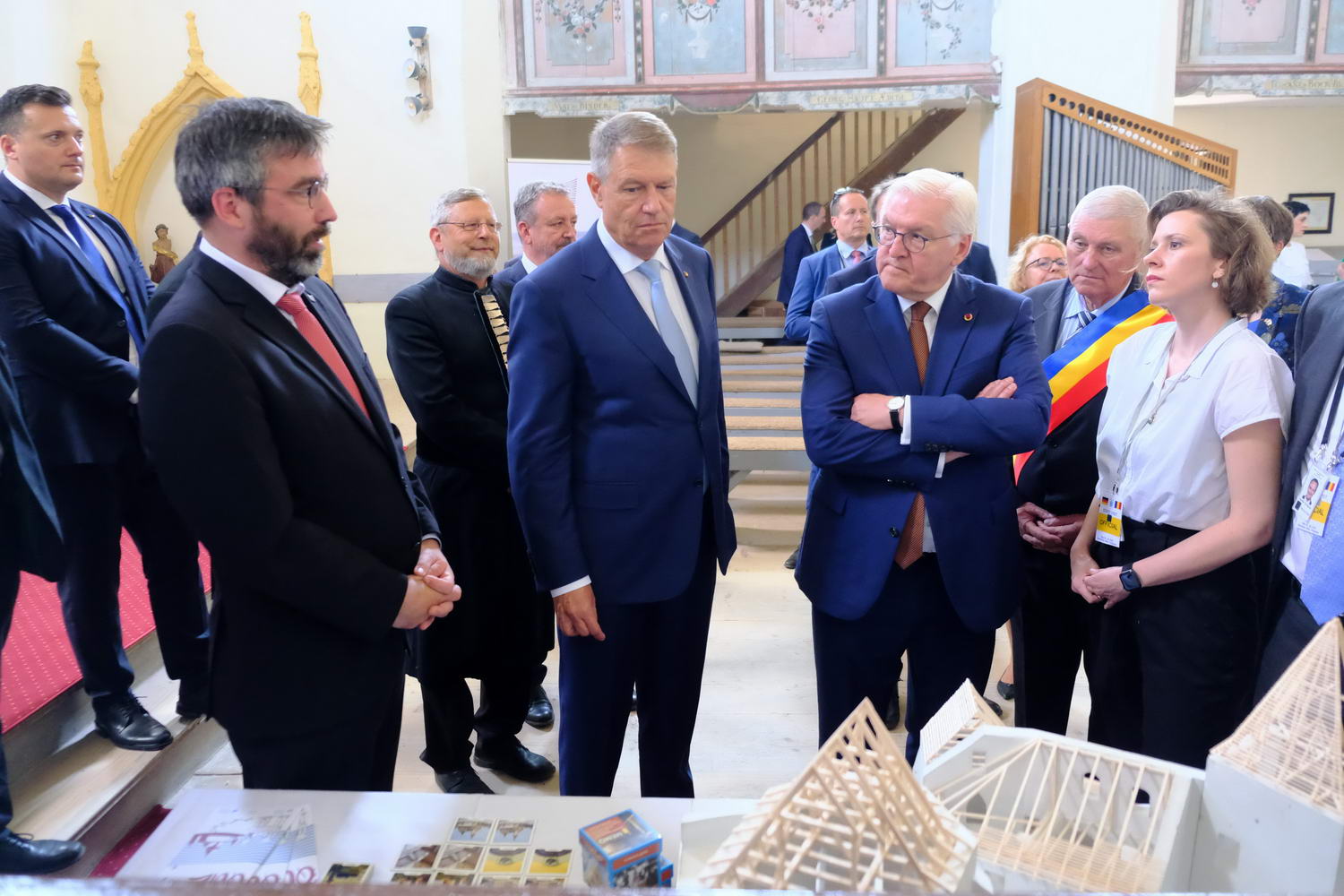 During his official visit to Romania, Germany's Federal President Frank-Walter Steinmeier (SPD) also paid a visit to the Evangelical Church A. C. in Romania and the Fortified Churches Foundation, of which he is a patron together with Romania's President Klaus Johannis. It was the first presidential visit since 2016, when Steinmeier's predecessor Joachim Gauck was a guest in Sibiu.
After meetings with representatives of the Democratic Forum of Germans in Romania and the Sibiu City Hall, where the high-ranking German guests met with Dr Paul-Jürgen Porr and Mayor Astrid Fodor, among others, the fortified church of Cristian was on the itinerary on the afternoon of 25 May 2023. Host President Klaus Johannis, the Federal President Steinmeier and his delegation were welcomed there by Bishop Reinhart Guib and the District Dean of Sibiu, Dietricht Galter, and were able to visit the mighty fortification in glorious early summer weather. 
Using a model of the Curciu fortified church made by the architectural office Modul 28 from Sibiu, Philipp Harfmann from the Fortified Churches Foundation explained what a gentle and sustainable adaptive reuse project with accommodation possibilities could look like. In Curciu, exclusive guest rooms are currently being created in the fortified church as part of the FortiVacation project funded by the German Federal Government Commissioner for Culture and the Media (BKM).
"Double patronage illustrates joint task"
Frank-Walter Steinmeier and Klaus Johannis are already the second pair of "patrons" since the founding of the Fortified Churches Foundation in 2015. Philipp Harfmann, Managing Director of the Foundation, emphasised the importance and great honour of these functions in his welcoming speech in the fortified church in Cristian: "The double patronage is a very important sign that illustrates that the preservation of the fortified church landscape is a Romanian-German and actually even a European joint task." 
Federal President Steinmeier had already visited Bucharest the previous day and continued his trip with a visit to the European Capital of Culture 2023 Timisoara after staying in Sibiu and Cristian. During his two terms as Federal Foreign Minister, Steinmeier had already visited Sibiu once in 2007 (then also Capital of Culture) and once in 2015. Since 2015, he has been an honorary citizen of the city.