Thanks to the support of the US-American Ambassador's Fund for Cultural Preservation the project planning and some repair works to the worth of almost 60.000 US-Dollars will be carried out in three fortified churches, in Daia/Denndorf, Agârbiciu/Arbegen and Movile/Hundertbücheln by the end of 2018 (see also news from 5 May 2017).
The first phase has now been completed and quite a few things have happened in Daia: repair plans and the permits of the authorities for monument preservation concerning the fortified church and the free-standing bell tower have been successfully developed and applied for. The assigned architect Liviu Gligor is pleased and confident: "We are well on track with the time here in Daia and were able to carry out some important urgency measures before the winter arrives, besides the preparation and administrative work we have also completed."
This includes the removal of vegetation all around the church building as well as the taking down of the cement plaster on the base of the church. In the course of these works some hidden treasures were discovered: a gutter stone was uncovered and the historic stones on the base of the church wall were unveiled. Furthermore the roofs of the sacristy and the western entrance were repaired with the help of a firm from Șaeș/Schaas, using traditional methods. The pictures below provide a brief summary of the latest developments: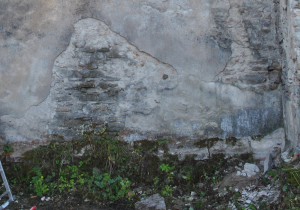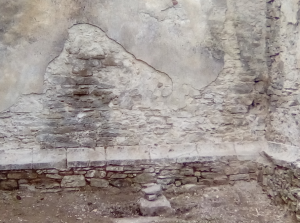 historic base stones: before / after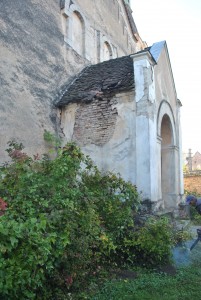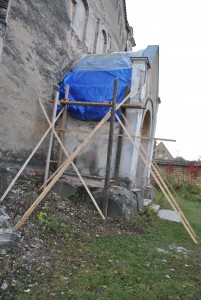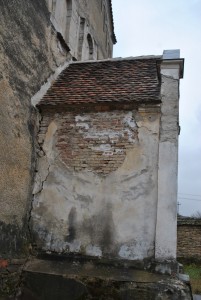 western entrance: before / during / after

Next year the roofs of the church and the crop house will be partly retiled. The needed 4,000 swallowtail and 1,000 beavertail roof tiles have already been delivered from the brick maker Gabriel Sârbu from Hosman.
The Fortified Churches Foundation would like to thank architect Eugen Vaida from the Ambulanța pentru Monumente for the good collaboration in developing construction plans for the tower and providing the necessary financial support.
Our gratitude also goes to Uwe Hann who lives in Daia and carries out many smaller maintenance and repair works on the church as a "castle keeper". His association Șapte Brazi is a reliable partner on site dedicated to developing good ideas and revitalizing the fortified church and the village.