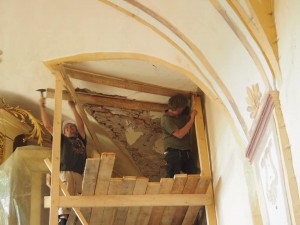 The structural damage that occurred above the west gallery of the Protestant church in Copșa Mare (church district of Mediaș) could be secured. As part of an emergency intervention by the Fortified Churches Foundation, not only was the endangered part of the vault supported in June 2019, but two excavated arch bricks were also replaced.
To protect the organ, the instrument was partially removed or covered with a protective tarpaulin. In order to restore the statically necessary tension in the vault construction, the wedging method was used. Sebastian Bethge and Peter Cersovsky from the Fortified Churches Foundation have driven wedges of oak wood into the vault. In order to observe the movements of the wall, the team also applied so-called crack marks. For this purpose, marking plates were attached to the northern wall next to the west gallery on each side of the crack, which can now be used to document every millimetre shifted. – The material costs of several hundred euros were borne by Sabine Haranzha, who has been engaged in Copșa Mare for more than three years.
The large church building dating from the early 16th century is one of twenty objects that have been subjected to static investigations in recent years using BKM funds. As early as 2017, the sacristy, which also dates from the first half of the 16th century, was saved from collapse by supporting beams as part of an emergency measure (click here to read the article).
Fotos: Peter Cersovsky