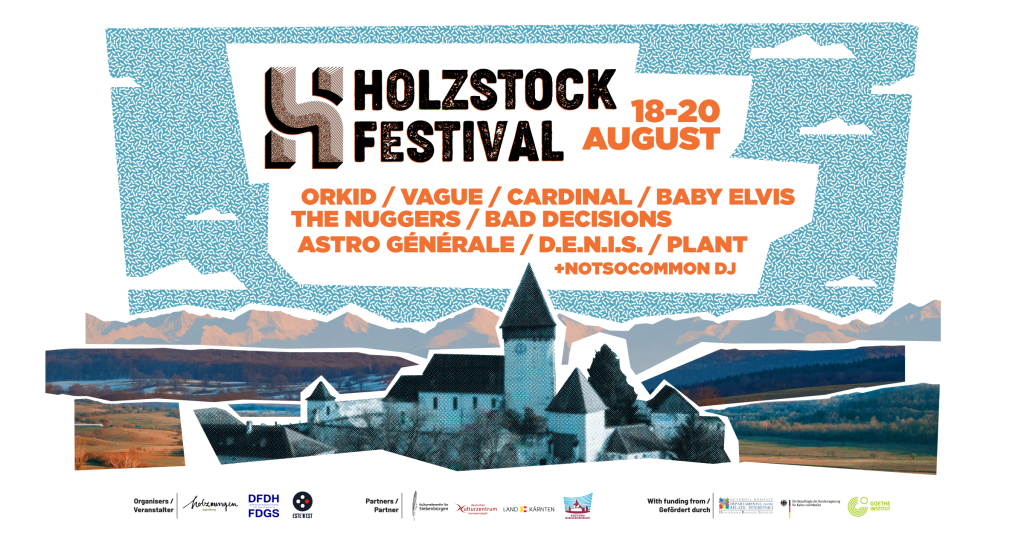 From 18 to 20 August 2023, the ninth edition of the Holzstock Festival will take place at the fortified church of Hosman! The event combines entertainment with heritage protection in a unique way and has become a fixed part of the Romanian festival calendar in recent years.
This year, the organisers want to exclusively present small bands that are relevant to the development of the indie-alternative scene in Romania. Vlad Ilicevici, artistic director of the Holzstock Festival, is already looking forward to the response of this year's event among fans: "We've put together a mix of shoegaze, indie, garage, punk, post-punk and even some prog and math post-metal that is perfect for our unique audience." Cardinal, Baby Elvis, The Nuggers, Astro Générale, Bad Decisions, D.E.N.I.S. and Plant are Romanian acts that could have a successful future ahead of them. "They are bands that would easily fit on the stage of any major alternative festival in the world, just like our international guests from Vague, a great NewWave-Psych-Pop-Krautrock-Shoegaze quintet from Vienna and Berlin ", Ilicevic explains.
Gentle, family-friendly adaptive reuse
Over the years, the Holzstock Festival has become a model adaptive reuse-example of aTransylvanian fortified churches. The inner churchyard, which the Hosman hometown community spruced up in a joint effort a few weeks before the festival, will once again become a campsite for visitors this year. Workshops on ceramics, hiking, archery, painting as well as tailor-made activities for children make for an ideal mix for the whole family alongside the music. Throughout the festival, those interested will also have the opportunity to explore the ensemble of the fortified church and the history of the site in special guided tours.
The Holzstock-Festival is organised by the CEPIT Association of Hosman, the Democratic Forum of Germans in Sibiu and Este'n'Est with the support of several sponsors and partners (Institut für Auslandsbeziehungen, Stiftung Kirchenburgen, Deutsches Kulturzentrum, Land Kärnten, Département für Interethnische Beziehungen, BKM and Goetheinstitut).
Up-to-date information on the programme and the workshops:
Tickets:
Images: Dragos Dumitru