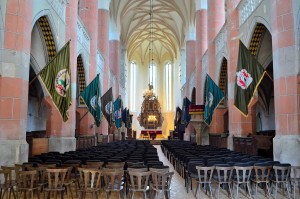 In place of the original church built in the 13th century, the present building was erected a century later. The economic prosperity of Bistriţa at that time favoured the construction of a basilica with three naves, polygonal choir and two towers on both sides of the main entrance. The importance of the church for the community can be observed in the successive stages of reconstruction that followed: rebuilding in the shape of a Gothic basilica with the naves separated by octagonal pillars and transformation to a Gothic hall with a surrounding wall and a watch and defence tower for the city.
Initially self-standing, the new tower, built in several stages, was included in the body of the church in 1487 and is the highest medieval church tower in the country.
Today the church is a worthy representative of the architectural transition from Gothic to Renaissance. The tower, which was heavily damaged by a fire in 2008 was repaired and tourist may today ascend the 75m high tower by elevator in order to admire the panorama of Bistriţa.
Place and surroundings

The city of Bistrița is the historical centre of Năsăud County, which forms the Northern borders of the Transylvanian Saxon Lands. In the 12th century, German- speaking colonists have settled in these places, who had the right of self- administration and eventually formed the majority population until 1944. Two destructive attacks of the Mongols and the Tatars in the 13th century could not stop the economic development of Bistrița, which was called Năsăud at that time. In the 15th century the city was given the right to hold a market-place and to have its own seal. In the following period numerous buildings of great value were erected, such as the Evangelical parish church, which together with the 75m tall tower represents one of the landmarks of the city.
Over the centuries, Bistrița belonged to the Principality of Transylvania, which until 1918 was part of the Austro-Hungarian Empire, and then decided to unite with the Kingdom of Romania. By the end of World War II, most of the Germans had left the county of Năsăud and only few of them have ever returned. However, an important german-speaking community which belongs to the Lutheran Evangelical confession still exists there.
Guest Rooms
There are four renovated guest rooms with bathroom, some with kitchenettes, in the centrally located town parish office.
Information & reservation:
Parish Office Bistrița
Ana Lungu
e-mail: kirchengemeinde.bistritz@yahoo.de
phone: +40/263/214 679