Slimnic / Stolzenburg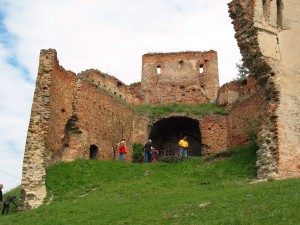 Erected in the 14th century on the northern borderline of the Royal land, the castle was, due to its strategic position, an outpost of Sibiu and secured the main road to Mediaş. The oldest part of the mighty fortification is the bell tower with three levels, boasting a Gothic chapel on its ground floor. The western wall of the castle with crenels and loopholes was built in the 15th century. On the precincts the construction of a Gothic church was started, but most probably it was never completed. Still preserved are the southern wall of the main nave and the ogival arches to the side aisle. The machicoulis on the western wall of the church prove that the attic should have been used as defence platform. The entrance to the castle leads through a tunnel in the north-eastern side of the assembly and further on a tower opens access to the fountain's outer bailey, an oval precinct partially collapsed in 1872.
The villager's fortress was conquered in 1529 and 1706 and the attacks mainly destroyed a second ring wall, which also surrounded the parish church built in the 14th century. The interior space covered with ribbed lierne vault it is endowed with valuable 16th century Baroque pieces, as the altar from 1773, the pulpit, the pews, the font and the organ.
The villager's fortress was left deserted in 1719 when the plague stroke and in the 19th century it was used as a source of material for other buildings of the community.
Place and surroundings
Located in the middle of Slimnic like a stoned heart of the village, the 14th century fortification proudly reigns. The stones of its walls witnessed many events: they repelled the Turks' attack in the 17th Century and the rebellion of the Kurucs in the 18th Century. But these conflicts left their bloody still visible mark on the construction. In 1706 the Kurucs put the roof on fire, threw away the bells from the tower and damaged the walls. Ten years later money was raised for repairs, but the work was ceased because of the plague epidemic. Then, a part of the fortification was demolished and used as building material.
Today many parts of the castle are preserved as ruin, which actually increases its charm. The restorations in the 20th Century did not succeed in concealing the old age of the fortification. Nevertheless, the castle wrapped in history and legends stands alone on the hilltop, lighted by the pale moon and darkened by the passage of centuries. The ruin seems to be dozing for eternity.