The curriculum of Romanian 7th-grade history class includes the subject of "Romanian minorities". The topics of history and traditions of the German minority in Transylvania are studied quite profoundly – very tangible topics for the students living in Sibiu, especially if they are students of the Brukenthal School. After all, it w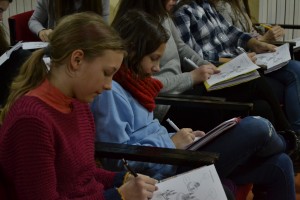 as the Transylvanian Saxons who were responsible for the educational landscape in Sibiu for a long time.
Besides the dances, folklore and culinary traditions one of the modules of the school subject is dedicated to the fortified churches – still visible witnesses of historic events in Transylvania. In order to explain the context and association between these medieval buildings and the people and communities who constructed them, history teacher Alexander Frohn invited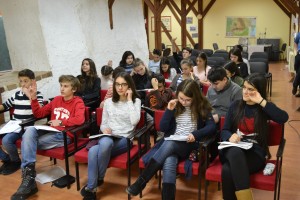 the Fortified Churches Foundation to conduct this module in the 7th grade classes.
The students listened to the presentation with great interest, they eagerly filled out their "fortified churches quiz", and learned about the most important features of the many defence elements of the fortifications as well as the classical structure of Transylvanian villages. Maybe some of these topics will be included in the next history exam?