The detection of structural defects at the earliest stage is crucial for the preservation of historic buildings. Time and again in the past, it has happened that emergency interventions were not carried out until it was already out of hand, because small cracks, a damp patch or a few missing roof tiles were discovered far too late. This is now to change. Two churches in the Târnava area are making a start.
In April of this year, Sebastian Bethge of the Fortified Churches Foundation team and restorer Lóránd Kiss of the ARCUS Association from Târgu Mureș concluded an agreement within the framework of the new fortified church maintenance program for two fortified churches in the Târnava area. The ARCUS Association is known by many friends of the fortified churches landscape especially for its passionate commitment to the Lutheran church of Filitelnic, which was neglected for many years and was successfully saved from total destruction in recent years by this very association and its members.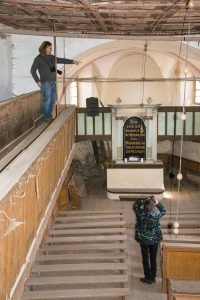 The Lutheran churches of Ormeniș and Magheruș, where – similar to Filitelnic – there are no or hardly any local members of the Lutheran church community, will now also enjoy regular, expert care and observation in the future. The activities include both the completion of minor repairs and maintenance work, the reporting of major defects, as well as a logging of the structural condition tailored specifically to historic buildings.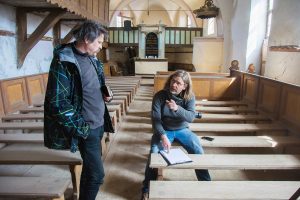 Rescue through donations
"There have already been cases where parts of the building have suffered permanent damage because a minor defect was reported to us too late or not at all," Sebastian Bethge describes: "In the past, people in the community noticed immediately if, for example, roof tiles had come loose after a strong wind and an opening had appeared in the church roof. In congregations with no or very few members, this is hardly possible today." With the maintenance program, the Fortified Churches Foundation is now taking the first step on a new path: Ormeniș and Magheruș will serve as pilot projects. After an evaluation, it will then be decided to what extent this model can be applied to other fortified churches. With the fortified church maintenance program, it may be possible in the future to make a decisive difference under very inexpensive conditions. The costs per church and year amount to a low four-digit euro sum and are borne entirely by funds from the Fortified Churches Foundation, which has raised them from donations.
Text and Photos: Stefan Bichler