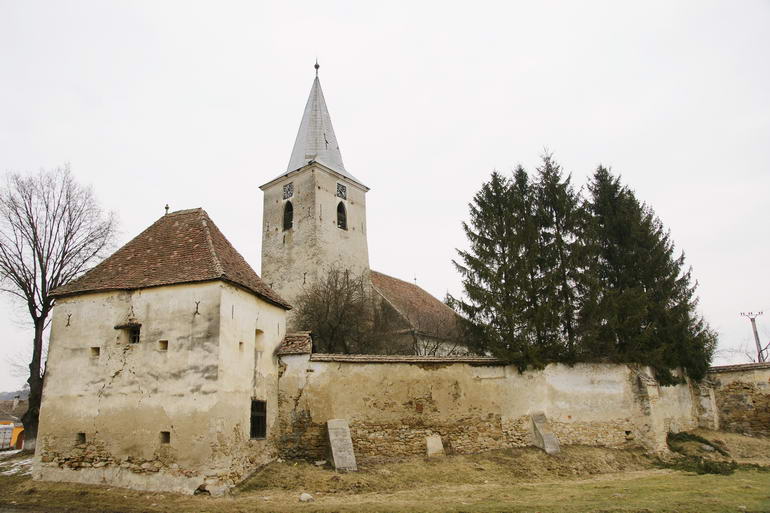 The initial Roman basilica from the 13th century went through numerous changes due to the many demolitions and reconstructions that occurred mainly in the second half of the 19th century, when the aisles were rebuilt with galleries and an apse was erected. Yet, a Romanesque door frame with a round arch was preserved on the southern facade.
A circular wall strengthened by a western tower with parapet walk surrounded the church. Another polygon-shaped ring wall was built around the first one, being endowed with 4 bastions and a 3-level parapet walk, whose traces – the 3 rows of loopholes – are still visible in the northern wall. On the south-eastern side, a long construction on 3 levels was used both for storage and accommodation purposes, strengthened by defensive systems.
Place and surroundings

Local legends tell of a gravedigger who, while digging in the cemetery at night, would have found a skeleton. Laughing sarcastically and kicking it, the man invited him over for dinner. Later, the man's peaceful dinner with his family was interrupted by a strong knock on the door: the skeleton had taken the invitation seriously and, either as a sign of gratitude for the invitation or as revenge, it kidnapped the man and took him on a mythical journey. It is said that the gravedigger returned home the same night, but he was a hundred years older and that he had visited paradise in his secular travel. But Heaven could not have been much more beautiful than his birthplace protected by the walls of the fortified church.
Bruiu is located a few kilometres southwest of Cincu (Großschenk), off the usual tourist routes in the so-called "Krautwinkel" (crout-corner). The fortified church, whose origins date back to the second half of the 13th century, is a typical example of Transylvanian fortified architecture.
Activities
2021-2022 Work on the roof of the fruit house as part of the roof programme
2019-2020 Emergency work on the church roof