Hamba / Hahnbach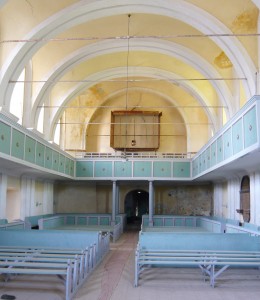 Only the masonry of the tower of the hall church in Hamba originates from the Romanesque construction time. Most probably it was repaired after the destruction of the church in 1493 and it was strengthened with a wooden parapet walk. The church itself was not rebuilt, but surrounded by a ring wall. A new construction erected in 1749 survived only until 1830, being replaced by the actual church. The small neo-classical church of harmonious proportions stands empty today, as its inventory comprising the balconies, the pulpit and the pews has been moved to another location.
Place and surroundings
First documented in 1337, this village was about to be erased from the face of Earth because of a devastating Ottoman attack less than 200 years later. Only the tower of the heavy damaged Romanesque basilica could be preserved and repaired and a new nave was built next to it. This nave was also replace in the 17th Century by the construction that is in place today. Unthreatened by the dangers of war or fire and much stronger than the stone walls, the Saxon customs were preserved and passed from one generation to the following one. To those belonged the regular use of the so-called "Lichtert" ("Licht" means light in German) for Christmas. This was an oval wooden candle stand richly decorated with glittering globes and tinsel. When its candles were lit in the darkened church, the community or a choir used to sing Christmas carols.
This custom was kept in Hamba until few years ago, when it got away with the emigrating Saxons. But the village church still stands and its history left valuable traces that must be visited.
Activities/Partners
Since Spring 2015 the association "Melikoleg" has been developing a bee-keeping school next to the fortified church. They offer different courses from beginners to expert level. The wide variety of courses ranges from elementary knowledge of raising bees and making honey all the way to marketing courses, pest control and the introduction of bee products for medical purposes. Furthermore all types of their own biologically produced honey can be purchased directly from Wilhelm Tartler within the walls of the fortification. Further information and a course schedule can be obtained here: www.miereecologica.ro