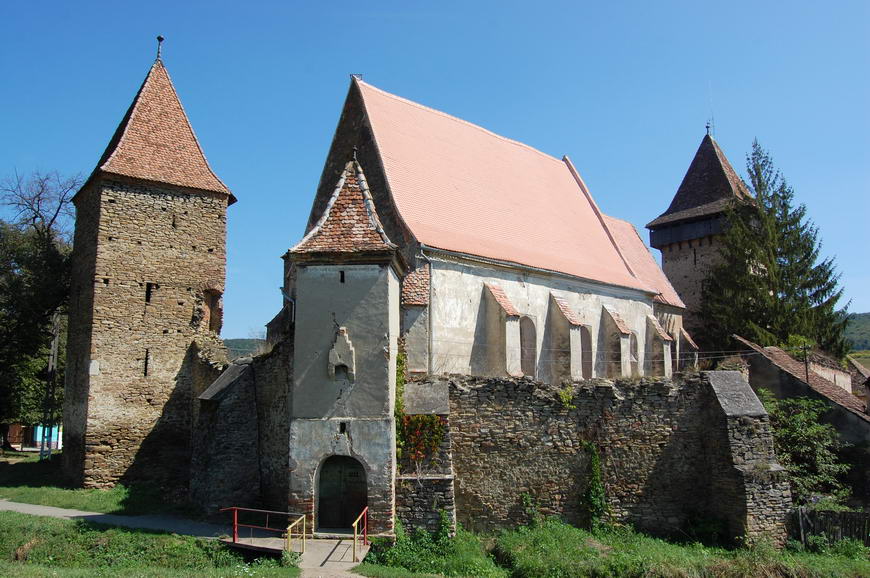 The village Valchid is hidden in a quiet side valley of the river Târnava Mare. In this place a church was build in the 14th century in pre-reformation style and has been preserved until today. It is surrounded by a fortification wall and has several defence towers.
From the beginning, history did not treat Valchid very well, but it is a typical example of the troubled past of the region. The very first documentary reference from the year 1317 relates to the attempted reconciliation of a dispute over land with a neighbouring village. The conflict flared up again and again over the next 450 years. In 1605 the village and the church were looted by passing troops. In 1776 the dispute over land was finally settled, but only a few years later a fire destroyed the entire village.
In the late 19th century the village made its living from viticulture and was heavy hit by the sudden invasion of phylloxera, which destroyed many vineyards. More than half of the inhabitants found themselves forced to emigrate.
Place and surroundings
The hall church with polygonal chancel was erected around 1390. Later a sacristy was built on the northern side, followed in 1441 on the western side by the richly decorated portal with ogee arch. The church itself was never fortified, but the assembly was surrounded in 1600 by a nowadays about 6m high wall, protected by five defence towers. The six story eastern tower with wooden defence level served as gate tower and bell tower in the same time. The southern tower collapsed end of the 19th Century, the other ones have been preserved. The classical sail vault now defines the interior of the nave, but the chancel still preserves its lierne vault from 1507. The organ altar, the pulpit and the font are dated beginning of the 19th Century.