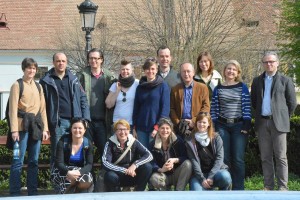 From 6 to 12 April the master-graduates of the course of study "protection of European cultural heritage" at the Europe-University Viadrina in Frankfurt/Oder visited the landscape of fortified churches. The 13 participants spent almost one week in Transylvania, a week full of new impressions. Those who did not know Transylvania before were definitely "infected" with the virus. A total of 15 churches and fortifications were visited along the way:
Black Church, Brașov
Fortified Church, Vulcan
Fortification Cincșor
School and fortified church Dealu Frumos
Fortification Mediaș
Church ruin Velț
Church Dârlos
Fortified Church Curciu
Church Șmig
Fortified Church Ighișu Nou
Fort of Alba Iulia and Catholic Cathedral St. Michael
Fortification Cristian
Fortification Hamba
Castle Cisnadioara
Parisch church Sibiu
During the the trip many different initiatives, people and projects were on the itinerary; for example the bio-farm of Willy and Lavinia Schuster, an expert dialogue with architect Liviu Gligor from the Ion-Mincu-University, honey tasting with the bee-keeper Willy Tartler and many more encounters with castle keepers, ministers and guides.
The journey was topped off by a visit with Bishop Guib in the office of the Fortified Churches Foundation. This offered a great chance to exchange information and ideas and possible follow-up projects of the inspiring trip could be discussed.